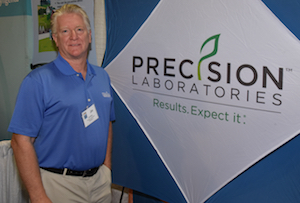 Precision Laboratories has released an extensive upgrade to its Mix Tank app, available immediately for download on iTunes and Google Play. During the recent Ag Media Summit, we caught up with Jim Reiss, senior vice president of product development at Precision Labs. The latest refresh is designed to better assist agricultural growers and professional applicators with resources and record keeping that will help prevent mix tank problems and make crop applications more efficient.
"We've incorporated user feedback into these updates to enhance the user experience and value of our Mix Tank app," said Reiss. "The result is a tool that provides additional features to help the applicator track important information while making the most appropriate and effective tank mixing decisions."
The app allows users to backup and restore data as well as share information across devices. Users can access Mix Tank's spray log to record nozzle types and weather is now free. Print from any device and get access to data sheets and additional information on Precision's specialty chemistry products.
"We developed Mix Tank as a tool to save applicators time, money and resources," said Reiss. "Mix Tank has proven to be a great tool for our industry, and we're excited to offer these additional enhancements to make tank mixing more safe and efficient."
Listen to my complete interview with Jim here: Interview with Jim Reiss, Precision Laboratories
View and download photos here: 2017 Ag Media Summit Photo Album