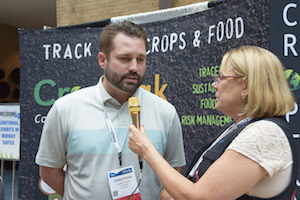 CropTrak as it exists today has been an evolution stemming from customer needs. The company began doing work for the military, a start that served them well in agriculture, says Jonathan Sherrill, Vice President of Sales.
"You have hard, remote conditions where there is no Internet connectivity, there is no cellular, so [you] build tools on a mobile device that's not dependent on cellular and Internet connectivity that enabled customers to collect data efficiently while they're in the field," Sherrill explains. One size didn't fit all in the military and it doesn't work in agriculture either.
In fact, that's why the company changed their name and their game this time a year ago, moving from iCropTrak and a mobile-only platform, to CropTrak with a web-based presence that can be accessed from a desktop when it makes more sense for the grower.
The most recent customer request to be granted is an API that plays nicely with others, specifically the John Deere Operations Center on MyJohnDeere.com. The new platform offers an even closer look at what goes on in the field, going so far as to allow a grower to put a circle on a specific zone and get data like yield by soil type, moisture by soil type, yield by slope, and yield by variety.
Of course, somethings don't change, like the ease in which Croptrak's data can be used to complete paperwork. Although, that's better than ever too. "I think what we're most excited about is being able to take that data and automatically fill out paper," Sherrill says.
For more information about our Gold Mic sponsor listen to Cindy's full interview with CropTrak here: Interview with Jonathan Sherrill, CropTrak