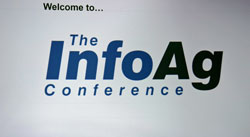 The 2017 InfoAg Conference is underway in St. Louis with a bigger crowd and more exhibitors than ever.
Since 1994, the InfoAg Conference has been the premier event for discussion and advancement of precision agriculture. This event draws interest from domestic and international agriculture professionals and features a wide range of educational and networking opportunities for professionals interested in learning more about precision agriculture techniques.
We will be bringing you all the latest in precision ag technology this year, thanks to our sponsors John Deere and CropTrak, so stay tuned!