U.S. Representatives Mike Rogers (R-AL) and Austin Scott (R-GA) both shared their perspectives on the new administration, gridlock in Congress, and the outlook for a 2018 farm bill at the 2017 Southern Peanut Growers Conference Saturday.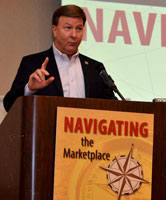 "It's going to be a tough fight, I don't want anybody to fool themselves," said Rep. Rogers about getting the next farm bill passed in Congress. He says he would like to see the legislation – which is about 80 percent nutrition programs – split just to see who votes for or against. "Neither one of them will pass on their own, but it'll show us who our friends are."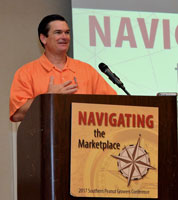 Rep. Scott says his number one concern is to make sure "we don't get splits between the commodity groups and within the commodity groups" with respect to farm programs. "I think one of the big debates in the farm bill will be planted acres versus base acres, I can tell you it's coming," he said. "The discussion of permanent law versus temporary law is another issue that we're going to have some honest discussion about."
Other topics the Congressmen addressed in their remarks and interview afterwards include infrastructure legislation, the recent farm bill listening session held in Florida, and cottonseed legislation.
Check out the SPGC Blog for full conference coverage
Listen or download audio:
Reps. Mike Rogers and Austin Scott address peanut farmers

Interview with Reps. Rogers and Scott

Southern Peanut Growers Conference Photo Album