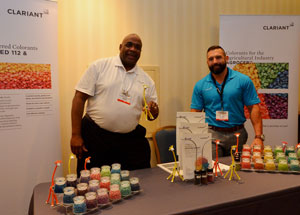 If you haven't heard of Clariant, it's pretty remarkable to discover all the ways this manufacturer of chemicals might be involved in your daily life. With manufacturing plants around the globe, Clariant's color division is providing pigments to industries like plastics, oil, even airline de-icing. They were at the American Seed Trade Association (ASTA) annual meeting in Minneapolis, Minnesota last week, however, to make sure the industry is aware of what they can do for seeds.
"We have six colors that are dry colors and six dispersions from those colors, said Eric Wrice, technical sales manager for Clariant. "They're all EPA approved and they meet the specifications of the United States market. Another thing about these products- you can get them globally any where in the world, so if you're a big manufacturer of seeds and you market all around the world you can get the same products anywhere."
Clariant's newest colors are shades of white and yellow that allow greater precision when it comes to providing an exact shade to, say, match a brand. They can get into almost any color space, Wrice explained. And you won't find higher quality products, since Clariant even makes many of the products that go into the coloring. In addition, these color products can actually enhance all the work that has gone into creating a seed since they also contain a sustainability additive.
Listen to Cindy's full interview with Wrice here to learn more about Clariant seed colors: Interview with Eric Wrice, Clariant