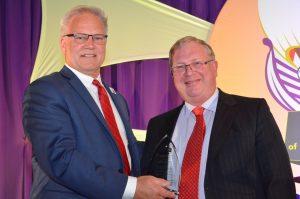 Dr. Stephen Smith was honored last week at the American Seed Trade Association (ASTA) annual conference in Minneapolis, Minnesota. Dr. Smith was made a Lifetime Honorary Member during the Gala Banquet in recognition of his leadership, vision, and service to the seed industry.
"Dr. Smith has been an ardent supporter of ASTA's activities on the domestic and international levels for over 20 years," said ASTA Chair Mark Herrmann. "He is known worldwide, well respected and deeply committed to the seed industry. An unfailing volunteer, a tireless worker and an unrelenting defender and advocate of intellectual property rights, he has traveled the country and the world attending meetings, giving speeches, organizing symposia and other activities related to intellectual property, germplasm protection and breeding for the seed industry. Respected by his colleagues in industry and government, domestically and internationally, he has become a 'go to' person in the industry on seed intellectual property."
Dr. Smith holds a B.S. from the University of London and an M.S. in Conservation of Plant Genetic Resources and Ph.D. on the Evolution of Maize from the University of Birmingham. At North Carolina State University he continued his research on maize as a postdoctoral student. He spent many years at DuPont Pioneer securing intellectual property rights and has served on both ASTA and Biotechnology Industry Organization (BIO) intellectual property committees. His newest endeavor is as a professor and visiting scientist in the Departments of Agronomy and Seed Science at Iowa State University.