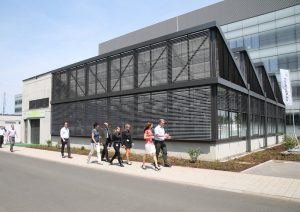 Clariant is excited to announce their new greenhouse at Clariant Innovation Center (CIC) opened earlier this week. The state-of-the-art greenhouse will offer R&D for crop protection and managment, along with yield-enhancement solutions.
The 400sqm greenhouse offers smart simulation of environmental conditions such as humidity, light, rainfall and temperature, creating a proper climate for testing to supplement Clariant's existing laboratory testing facilities at the CIC. The aim is to reduce development time and speed-to- market for advances in the niche growth areas of Plant Growth Regulators, Foliar Fertilizers and Bio-herbicides. These have been identified as focus areas to Clariant for successfully addressing current customer-specific needs and future global food demands.
"The new Crop Solutions greenhouse creates the perfect environment for fostering joint development in the areas we see as having most potential for delivering sustainable crop protection and, in the bigger picture, addressing the world's increasing nutrition requirements," said Britta Fünfstück, Member of Clariant's Executive Committee. "It's a level of support that sets us apart within our industry and we are excited at the prospect of contributing even more closely to the innovations of tomorrow."
The new facility reinforces Clariant's focus on sustainability and puts the company in a stronger position to provide answers going forward. Keep watching for unique solutions to come.