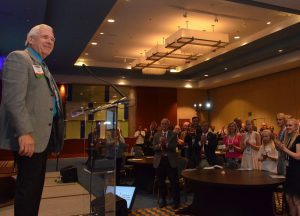 Joe Funk, Editor at SEED TODAY, was selected as this year's American Seed Trade Association (ASTA) Distinguished Service Award winner. He was honored during the Opening General Session of the ASTA Annual convention in Minneapolis, MN. The award is given to a member who has made a significant contribution both to ASTA and the seed industry.
"Joe has been faithfully serving agriculture and the seed industry with in-depth reporting on our rapidly changing business for 30 years," said ASTA Chair Mark Herrmann. "He's not satisfied to just research a topic and write about it; more often than not, you'll find Joe making a personal trip to see first-hand the subject of his article."
Funk grew up on a dairy farm in Illinois and graduated from the University of Illinois with a B.S. in Agronomy. He spent 10 years with the USDA and a few years as a sales manager for a regional seed company before beginning to write for the Grain Journal in 1987. He was made Editor of SEED TODAY in 1998. He will continue his career as an external agriculture communications consultant beginning next week.
"The men and women that I have met since becoming Editor of SEED TODAY represent an outstanding group of people," says Funk. "Seed production is a unique industry with widespread personal relationships. These are exciting times. Each year brings both unprecedented challenges and new, exciting opportunities. I am grateful to the seedsmen and product/service providers for allowing me to have a role in their industry."
Listen to the award presentation and Joe's remarks here: ASTA Distinguished Service Award winner Joe Funk