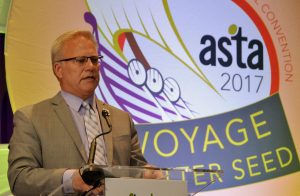 The American Seed Trade Association (ASTA) annual meeting marks the end of Mark Herrmann's service as Chair of the organization. For the past year he has lead the group in some major changes and successes, including the passing of a federal GMO bill.
"The GMO transparency bill being a federal bill, as opposed to the patchwork that was being done by state bills, is huge– for not just the American Seed Trade Association but the entire food industry in general," Herrmann stated.
There have been other major milestones during his tenure as well. ASTA placed a staff member in China to assist with developing intellectual property rights and processes along with other bills. The communications team has also released two videos, one featuring a plant breeder, mother, and gardener, and a new animated video that seeks to educate the public on a very simple level about what breeding actually means.
Herrmann also leaves behind the legacy of an entirely rebranded event for future years. While "annual conference" is a very broad term, the summer meeting has evolved into something more specific. The new title of the session going forward has been changed to "Policy and Leadership Development Conference" to reflect this focus.
Listen to Cindy's interview with Mark here: Interview with ASTA Chair Mark Herrmann, Ag Reliant Genetics