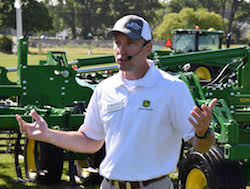 If you haven't checked it out yet, the John Deere field cultivator is worth looking into. Jarred Karnei was at the John Deere Reveal event last week to talk about the newly redesigned equipment.
"Here we've incorporated technology into our tillage tools," Karnei describes. "What it allows our producers to do is to be able to be in the cab and make adjustments to the tool. Field conditions change a lot of the time as you go through the field. There's variability in soil type, there might be variability in residue levels or topography that really, you need to be able to change that tool to get that fine finish on the field that you want and have it consistent throughout the field."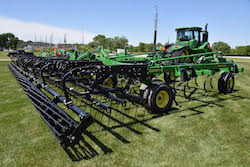 The field cultivator is available in two different models and multiple sizes to meet the needs of any size farm looking for conventional tillage and a good seed bed for planting. The redesigned frame has true, six-inch spacing, a rear harrow and pro-finish leveling system. It also provides with six different options for rear attachments.
Growers already using the product say they're getting a high quality performance, and they're more productive since they can manage settings without leaving the cab.
Learn more about the John Deere field cultivator in Jamie's full interview with Karnei here: Interview with Jarred Karnei, John Deere