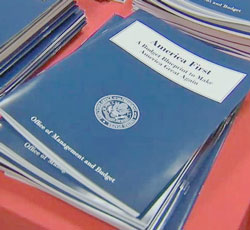 Secretary of Agriculture Sonny Perdue offered a positive perspective, but farm groups are reacting to Trump's proposed 2018 budget in the opposite way.   American Farm Bureau Federation, National Corn Growers Association, American Soybean Association, National Association of Conservation Districts, and whole list of Crop Insurance organizations oppose the $4 billion in cuts to the U.S. Department of Agriculture.
"I don't think there's any reason to sugar coat this," Perdue said to reporters on a press call Tuesday. "But I believe the people knew what they were doing when they elected President Trump…I think many believe as I do – I just don't think it's moral to continue to kick a $20 trillion debt down to our grandchildren."
But many are worried about making these cuts considering the current agriculture economic situation.  "Targeting the federal crop insurance program is extremely shortsighted," counters the National Corn Growers Association. "It is especially harmful during an extended period of low commodity prices. NCGA members consistently tell us that crop insurance is their most important risk management tool. This public-private partnership helps farmers manage their risk, and it saves taxpayers money in the long run by reducing reliance on ad hoc disaster assistance."
Of course, its Congress who will make the budget decisions, so no matter which side you're on, it's simply a game of wait and see.