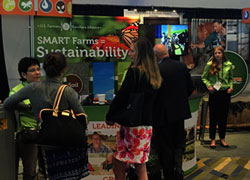 The U.S. Farmers and Ranchers Alliance® (USFRA®) is at the Sustainable Brands Conference in Detroit this week to showcase the sustainability of farmers and ranchers and unveil the first-ever Agriculture in America Sustainability Report.
The sustainability report builds on key insights from USFRA's annual research that aims to identify and gain a clearer understanding of consumers' perception of sustainability in U.S. food and agriculture. Through this research, findings conclude that consumers struggle to define sustainability. Moreover, the topic is best understood by consumers when farmers explain the tangible ways they are improving the water, soil, air and habitat on and around their farms.
USFRA is engaging attendees at the national event for brand leaders "who create environmental and social purpose to drive innovation" with the SMART Farm booth, allowing event goers to experience USFRA's 360-degree videos highlighting how farmers use new technologies to enhance animal welfare, efficiency and sustainability.
Real smart farmers are also on hand to talk about modern food production. USFRA Chairman Brad Greenway of South Dakota and CommonGround volunteer Hilary Maricle of Nebraska, both crop and livestock farmers, are presenting at the conference about raising farm animals humanely, environmentally-sustainably, and profitably.