Senate approval of Ambassador Robert Lighthizer as U.S. Trade Representative gives President Trump a full cabinet.  Trade will be getting an additional boost, as Agriculture Secretary Sonny Perdue has announced that the USDA will soon have an undersecretary for trade and foreign agricultural affairs to help with the administration's international trade goals.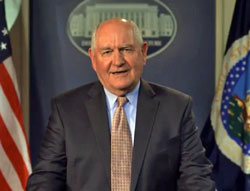 "Food is a noble thing to trade. This nation has a great story to tell and we've got producers here that produce more than we can consume," said Secretary Perdue. "And that's good, because I'm a grow-it-and-sell-it kind of guy. Our people in American agriculture have shown they can grow it, and we're here to sell it in markets all around the world."
As part of the reorganization, Perdue also announced that the department's Rural Development agencies would be elevated to report directly to the secretary of agriculture "in recognition of the need to help promote rural prosperity."Additionally, a new undersecretary will be selected for a newly-named Farm Production and Conservation mission area, which is to focus on domestic agricultural issues. FSA, RMA, and the Natural Resources Conservation Service will all fall under this new undersecretary.
Listen to Perdue's announcement here: [wpaudio url="http://traffic.libsyn.com/zimmcomm/perdue-reorg.mp3″ text="Secretary Perdue announces USDA reorganization plans"]