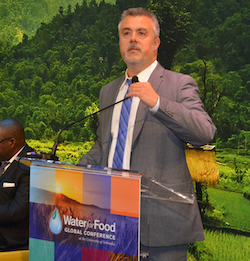 The "Upscaling Solutions: Expanding access to irrigation for smallholders in sub­-Saharan Africa" session at the 2017 Water for Food Global Conference explored how public and private sector investors can support smallholder-irrigated agriculture in sub-Saharan Africa.
The presentation included a whitepaper synthesis of case studies relevant to this topic. One case study was from International Development Enterprise (iDE), a global effort that spans offices in 14 countries, encompassing 4 social enterprises, employing nearly 1,000 people directly, and indirectly enabling many more through our market-based approaches in agriculture, water, sanitation and hygiene, and finance.
"We did this study, in part, because of on what I read in a pre-study about six years ago, that said, for a farmer to buy irrigation equipment, the most expensive part is research and learning about the product because it takes so much time for the farmer to get out there and learn about it because it's not in their backyard, because in many cases they don't have multiple examples of irrigation available to them."
Listen to Prewitt's case study presentation here:
[wpaudio url=" http://traffic.libsyn.com/zimmcomm/water4food-17-prewitt.mp3″ text="Tim Prewitt Case Study"]
In an interview following his presentation, Prewitt reinforced the mission behind iDE and how he believes the company has the ability to directly drive global solutions for producers all over the world.
"The planet today is faced with tremendous growth and tremendous stress on its food resource, and we're only able to feed this people in America right now because technology has allowed yields to increase every year in this country," he said. "There are huge areas of the globe where farmers are only getting a quarter of the yields we are, and it's all a matter of getting modern technology to them."
Listen to Jamie's full interview with Tim here:
[wpaudio url=" http://traffic.libsyn.com/zimmcomm/water4food-17-prewitt-interview.mp3″ text="Interview with Tim Prewitt, iDE"]