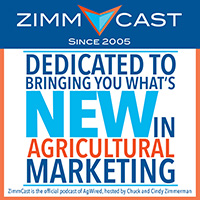 AeroVironment has been building drones for the Defense Department for 25 years, so when they turned their sights to agriculture, the process was taken seriously.  They studied the industry needs for two years, Matt Strein said in our latest ZimmCast, learning exactly what growers wanted.
The Quantix Drone offers three key points, Strein says.  First, it offers a simple user experience.  Second, they focused on the ecosystem, putting in the best from hardware to software.  Third the Quantix offers actionable intelligence, not just pretty pictures, so growers can make better decisions.
The final product is the first hybrid drone to be offered for agriculture.  It combines the aerodynamics of a fixed-wind drone and the flexibility and safety of a multi-rotor option.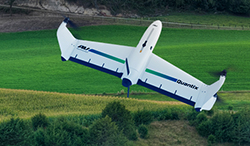 Quantix collects RGB and NDVI multispectral images that can be viewed on-site immediately after each flight and then are uploaded, processed and stored securely in the cloud for growers to view either on their mobile device or a desktop computer. The AV DSS will feature a mobile app component allowing producers to collect and record infield observations. The platform is equipped with an alert system that instantly notifies farmers of anomalies in the field so that immediate action can be taken to address stressors.
AgNerds can view several videos on the AeroVironment website, and make sure and listen to the ZimmCast with Matt Strein here: [wpaudio url="http://traffic.libsyn.com/zimmcast/zimmcast542-4-7-17.mp3″ text="ZimmCast with Matt Strein, AeroVironment"]
Subscribe to the ZimmCast podcast here. Use this url in iTunes or your favorite news reader program/app.