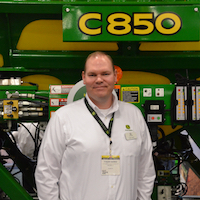 The John Deere C850 Air Cart sat centerstage in their booth during the 2017 Commodity Classic. At times you even had to wait in line for a chance to climb the latter for a birds eye view and get a first-hand look at the cart's 850-bushel carrying capacity. Tyson Harris, product manager at John Deere, also had a line of farmers anxiously waiting to get their questions answered and learn how this piece of equipment can help them drill more acres per day.
Tyson said the C850 Air Cart is equipped with John Deere's AirPower™ 2 system giving farmers the capability to put out 550 pounds of product per acre, accurately and on a 15 degree slope across the width of the drill.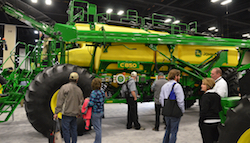 "If you are a producer who defines performance in terms of productivity, technology integration and accuracy then the C850 is the air cart for you," Tyson said.
"I think the thing producers want to know the most is the capability of the system. They want to know the size of the tank, what are the tanks splits to see if it fits an ideal prospective on their farm and they want to understand pricing. With commodity prices the way they are, they want to make sure our product is competitive on the marketplace. I think John Deere has done a great job of providing a right price point, but also providing a machine that gives you value and a return to the producer," Tyson added.
A limited release of the C850 Air Cart took place in Canada last year and it has officially been released in the United States this spring and will be available for model year 18 for ordering. Listen to Jamie's complete interview with Tyson here: [wpaudio url="http://traffic.libsyn.com/zimmcomm/cc-17-jd-harris.mp3″ text="Interview with Tyson Harris, John Deere"]
View and download photos from the event here: 2017 Commodity Classic Photo Album