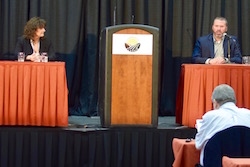 Anita Sennett and Nick Tindall represented the Association of Equipment Manufacturers as a partner of Commodity Classic last week. In a press conference the two pointed out the importance of the agriculture manufacturing industry on the U.S. economy. A new study, which will be released in its entirety on March 9, shows that 27 percent of manufacturing in the U.S. is for farm equipment, employing more than 114,000 people and contributing 21 billion to the overall economy.
It's that message AEM will push in the coming year as they, too, join the conversation around the Farm Bill.
"A lot of people forget that agriculture matters to folks who don't live on farms," said Tindall. "I think that being from the heavy industry, heavy manufacturing sector we have the opportunity to go into offices and interject the angle that farm economy is very important to hundreds of thousands of people, as the economic study points out, who work in the agriculture manufacturing sector."
AEM is also interested in ensuring wireless access comes to rural communities. As equipment becomes more and more complex, access to wireless affects a machine's ability to function at its fullest extent.
Learn more about AEM's plans for the future here: [wpaudio url="http://traffic.libsyn.com/zimmcomm/classic17-aem.mp3″ text="Association of Equipment Manufacturers Press Conference"]