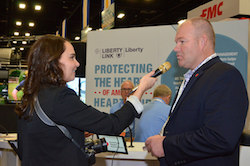 LibertyLink may not immediately make you think of the American Heart Association (AHA), but Bayer wants to change that.
"So our goal is to build awareness around heart disease– one of the major killers in the rural market," explains Jody Wynia, soybean and cotton manager for Bayer. "It's 39 percent more prevalent in rural communitites than it is in the urban market. So we wanted to do some outreach programs to help build that awareness and help address a healthy lifestyle moving forward."
Bayer selected their LibertyLink product for their AHA partnerhsip because of it's rapid growth. They saw a 70 percent increase in sales last year and expect another 50 percent increase this year. For each of the bags that fly off shelves in 2017, Bayer will donate 5 cents to the AHA's Healthy for Good movement for a total donation of $500,000. They'll also be raising awareness through educational activities in rural areas.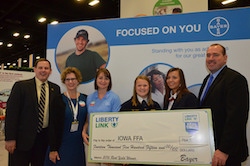 LibertyLink has another partner as well. The FFA has built a grassroots effort to spread the word about the benefits of using Liberty to address weed resistance through the RealYield Sweepstakes. State FFAs competed for their share of $50,000 Bayer designated to be split by the percentage of their involvement in the sweepstakes. Iowa FFA Foundation worked hard and was rewarded well with a generous check at Commodity Classic.
Learn more about Bayer's partnership with the American Heart Association and the FFA in the full interview here: [wpaudio url="http://traffic.libsyn.com/zimmcomm/cc-17-wynia.mp3″ text="Interview with Jody Wynia, Bayer"]
Hear my interview with Joshua Remington, Executive Director of Iowa FFA Foundation and Erica Baier, Iowa State FFA officer here:[wpaudio url="http://traffic.libsyn.com/zimmcomm/cc-17-iowa-ffa.mp3″ text="Interview with Iowa State FFA "]