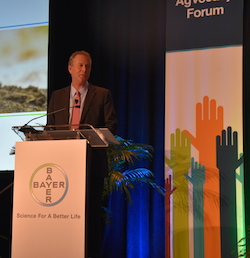 When it comes to scientific innovation, Bayer has a longstanding reputation as a leader in the development of breakthrough technologies. New innovations, developments, and changes are always on the horizon for Bayer, and the company's dynamic outlook was discussed during the 2017 Bayer AgVocacy Forum in a presentation from Dr. Adrian Percy, Bayer's global head of research & development and an executive committee member of Bayer Crop Science, and David Hollinrake, vice president of North America Marketing, Bayer Crop Science.
The AgVocacy Forum was inspired by the simple but powerful conviction that the agriculture industry must strengthen the age-old bond between those who consume food and those who produce that food, and the presentation centered around Bayer's ongoing efforts to use their innovations and developments to create a more inclusive, people-centered business model that will help bring together a disconnected society.
"The role of agriculture is more significant than ever before," said Dr. Percy. "The exponential advances in technology that we have seen in recent years won't solve our world's food security and sustainability challenges by themselves, but they can go a long way in creating solutions to those challenges."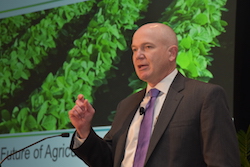 Hollinrake discussed the global trends that will likely shape the future of the agriculture industry over the next fifteen years, the ongoing need for new innovation, the importance of Agvocacy, and Bayer's mission to continue connecting consumers back to agriculture.
Both speakers also discussed how Bayer's recent acquisition of Monsanto will play a key role in the creation of unprecedented, necessary technologies that will serve as solutions to the network of challenges facing the world today. "Technologically, I can't think of a combination that could be better than what we are building, I am so excited about the possibilities of what we can create," said Hollinrake.
Listen to the full presentation here:
[wpaudio url="http://traffic.libsyn.com/zimmcomm/agvocacy-forum-17-percy-hollinrake.mp3″ text="Bayer Outlook Remarks at #AgVocate Forum"]