Farmers at the National Farm Machinery Show are being encouraged to submit comments to the Environmental Protection Agency to protect widely used class of insecticide being targeted under a routine regulatory review.
Pyrethroids are used to control insects in 120 different crops, as well as turf, lawns and gardens. But an EPA assessment released at the end of last year found that use of the chemical was a risk for aquatic insects, a claim the industry says is based on models instead of actual use data.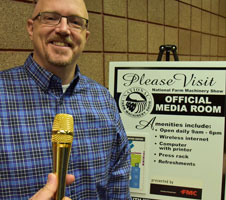 "FMC is a member of the Pyrethroid Working Group industry consortium which has developed a lot of additional data that we consider more real world…and EPA has chosen not to use that at this stage in the risk assessment process," says FMC Registration and Regulatory Affairs Manager John Cummings. FMC's Capture LFR and Brigade are two products that would be impacted under the review.
The comment period on the review opened at the end of November and originally closed at the end of January but has been extended now until the end of March. "Obviously the industry will be submitting very technical comments," said Cummings. "But it's important that EPA hears from the growers how these products are actually used…EPA is required to consider not only the risks but also the benefits to society."
FMC has an easy way for growers to comment without having to navigate the government websites – just click here.
Learn more in this interview: [wpaudio url="http://traffic.libsyn.com/zimmcomm/nfms17-fmc-cummings.mp3″ text="Interview with John Cummings, FMC"]