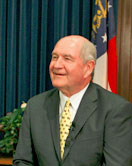 President-elect Donald Trump will officially round out his cabinet by nominating former Georgia Governor Sonny Perdue as Secretary of Agriculture just a little more than 24 hours before the inauguration.
As word about the choice spread Wednesday evening, most agricultural groups were waiting until the official announcement to respond, but one of the first was American Farm Bureau president Zippy Duvall who strongly supports his fellow Georgian. "I have known Gov. Perdue for years," Duvall said. "I've seen firsthand his commitment to the business of agriculture as we worked together on issues facing farmers and ranchers in our home state of Georgia."
George Ervin "Sonny" Perdue III is 70 years old and served as governor of Georgia from 2003 to 2011 and was the first Republican governor elected in 130 years. He grew up on a farm, was a veterinarian and operates grain and fertilizer businesses. And even though Georgia is a top poultry producing state – no, he is not related to the Perdue poultry business.