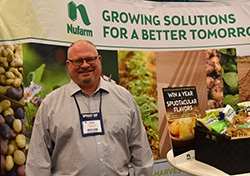 The Potato Expo in San Fansisco earlier this month gave Chuck Zimmerman a chance to talk to Nufarm Manager of Tech Services, Alan Haack about an issue affecting the home state of AgWired's world headquarters. Citrus greening has devastated the citrus industry of Florida, affecting half of the state's fruit production. Last year the Florida Commissioner of Agriculture declared a crisis and allowed the use of several products, including Nufarm's Oxytetracycline Calcium Complex– Mycoshield. Now just shy of one year of use, Chuck was able to get the latest on efforts to curb the disease.
There hasn't been a cure for the disease, which Haack likens to cancer. It can be in a tree for 3 to 5 years, maybe even just a branch, and not show signs, all the while spreading the bacterium. "Now with this product they're seeing very positive results in extending the production of the current trees," he tells Chuck.
That's a huge step, considering trees can take 5 or 6 years to get back into production. Maintaining those trees instead of loosing them has great benefits to growers. Mycoshield could also have great benefits to the citrus industries in other states as well. Currently Nufarm is working with the state of Texas, which as seen a small outbreak of the disease, and California to prevent problems before they start.
To hear the latest for yourself, listen to the full interview here: [wpaudio url="http://traffic.libsyn.com/zimmcomm/potato-expo-17-nufarm-haack.mp3″ text="Interview with Alan Haack, Nufarm"]
Coverage of the Potato Expo is sponsored by