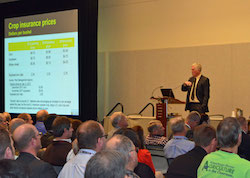 Dr. Pat Westhoff of the Food and Agricultural Policy Research Institute (FAPRI) at the University of Missouri brought attendees of the American Farm Bureau Federation's Annual Convention and IDEAg Trade Show an outlook for the 2017-2018 crop demand.
Overall, he says, look for 2017 to follow a similar trend of 2016, with prices continuing to be below average. "Lots of pressure will be placed on labor markets where there hasn't been in the last several years," Westhoff said. "This a result of poor labor markets and a slowing rate of population growth.
"Most of the immediate population growth will occur in the age range of people who are not of working age in the U.S., adding to the stress on the labor market."
With an emphasis on the patterns of growth in populations and the advancements already made in grains and oilseeds, Westhoff outlines how harvest has increased by 17 percent while the world per capita consumption is increasing at 16 percent yearly.
"China and biofuels accounted for all the growth in per capita consumption since 1980," Westhoff said. "Ethanol production and an increase in Chinese consumption per capita has had the greatest effect on grains and oilseeds global markets. Remove those two factors and we have about the same per capita use of grains and oilseeds."
You can listen to his predictions here: [wpaudio url="http://traffic.libsyn.com/zimmcomm/afbf17-crop-outlook.mp3″ text="AFBF Crop Outlook with Pat Westhoff"]