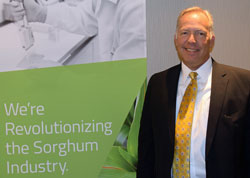 One of the S's in ASTA CSS stands for sorghum and one of the sponsors for this year's American Seed Trade Association 71st Corn & Sorghum Seed Research Conference 46th Soybean Seed Research Conference and Seed Expo is a company that's all about sorghum.
"Chromatin is a sorghum-focused company – we only work in sorghum," said Charles Miller, Chromatin vice president of international sales and business development. "We are vertically integrated from seed research through sales and distribution."
Chromatin's corporate headquarters are located in Chicago, where the ASTA CSS is held every December, and the company is currently selling in 43 different countries around the world with lots of upside potential. "We're seeing a need for crops that can adapt to harsher climates and sorghum is one of the best adapting crops in the world," said Miller, which makes it an important crop in areas of the world such as Africa as the population grows to demand more meat and more starch.
For the more developed countries, Miller says sorghum is also great for gluten-free diets. "It's been added to gluten-free beers, it's been added to gluten-free cereals, so as that trend develops … we're going to see sorghum grow there," Miller said. Chromatin recently signed an exclusive license agreement for unique sorghum genetic stocks developed by Agrigenetics Inc., an affiliate of Dow AgroSciences.
In this interview, Miller also talks about why Chromatin is such as strong supporter of ASTA: [wpaudio url="http://traffic.libsyn.com/zimmcomm/astacss-16-chromatin.mp3″ text="Interview with Charles Miller, Chromatin"]