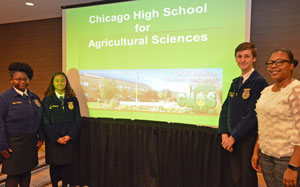 The American Seed Trade Association Future Seed Executives (FuSE) had the opportunity to hear about an agricultural high school right in Chicago that is growing the next generation for the industry.
The Chicago High School for Agricultural Sciences (CHSAS) is located just about a half hour south of the Hyatt Regency where the ASTA CSS & Seed Expo is held every year so it was a short trip for the school's agricultural sciences chair JaMonica Marion and the three students she brought to talk to the ASTA group last week. "We are located on a farm actually in the city of Chicago," she said of the school that opened in 1985 and includes various ag career pathways. "We are promoting career success and providing our students with outstanding opportunities to get exposure to agricultural education in an urban setting."
The school is open to any student in the city of Chicago, but they have to apply for the opportunity. "We receive over 3000 applications a year for only 180 spots," said Marion. The school claims a 93 percent graduation rate and an impressive 75 percent go on to major in agricultural careers. "In fact, out of the nine agricultural teachers on staff (at CHSAS), seven of those are alumni, including myself," Marion said.
The room full of young and more seasoned agribusiness professionals at ASTA were spellbound by JaMonica's presentation of what the school does, from the working farm, to giving back to the community and showcasing agriculture in downtown Chicago. Many were interested in how they could help support the school. "With us being a farm, we will always take seeds, we'll always take farm equipment, if they want to make donations," Marion said.
Learn more about the Chicago High School for Agricultural Sciences in this interview: [wpaudio url="http://traffic.libsyn.com/zimmcomm/astacss-16-chicago-ag-hs.mp3″ text="Interview with JaMonica Marion, CHSAS ag teacher"]