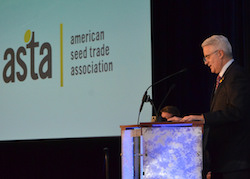 President and CEO of ASTA, Andy LaVigne, breathed a big sigh of relief at the success of this year's conference. After planning and scheduling the largest seed conference of it's kind in the world, all you can do is hope people show up– and show up they did. "We had to bring in tables and chairs," LaVigne told Cindy Zimmerman.
The conference boasted the sessions and events that have made it so popular while adding new aspects. The addition of a living room setting in Columbus Hall turned out nicely, with screens to watch events, spaces for collaborating, and a chance to catch up over great food.
A new video campaign was also launched at this year's event, featuring seed breeder and mother, Jessie Alt, showing her life as a mom and backyard gardener to help the general public relate to the job of plant breeder. Plant breeding is foreign to most people, LaVigne says, but they do such an amazing job of improving seed characteristics every year.
For those less in the know than plant breeders, the conference also held the opportunity to learn about the newest gene editing technique. Technology and innovation have made it possible to maximize characteristics already in plants to make them stronger or more resistant to problems in a much faster way, making sure farmers and, ultimately, consumers, have the nutritious, sustainable food they want.
Cindy's interview covered politics for 2017, Trump's EPA pick, and trade, in addition to some exciting tidbits about the upcoming Flower and Vegetable Seed Conference.  Listen here to learn more about it: [wpaudio url="http://traffic.libsyn.com/zimmcomm/astacss-16-andy.mp3″ text="Interview with Andy LaVigne, ASTA"]