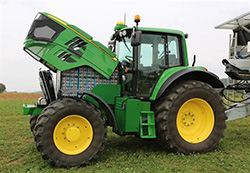 In advance of the Paris International Farm Show (SIMA) in France John Deere has unveiled what it says is the "First fully battery-electric high-hp tractor." This photo is from the SIMA new products website page. Here is information from the company news release about the SIMA award winning product.

Citation Award:
SESAM: the first all-electric tractor
With its SESAM Tractor (Sustainable Energy Supply for Agricultural Machinery), John Deere presents industry's first fully battery-powered tractor providing all functionalities and features of a standard tractor while offering all benefits resulting from electrification at the same time. The SESAM tractor is an elementary component John Deere's vision of future energy autonomous farms.
Besides an overall outstanding efficiency, benefits from the SESAM tractor are potential use of on farm produced renewable energy and enabling new business models for farms through grid-plug-in and bi-directional charging technology. This enables farms for future services for electric power grids in rural areas.
This prototype machine produces 130kW continuous power and is based on chassis from Mannheim's 6R series tractors. Two maintenance free electric motors operate the slightly adapted DirectDrive transmission. In standard mode one motor is used fort the drive train and the other for PTO and auxiliaries. If necessary, both motors can be linked together in order to supply full power either for driving or for PTO and hydraulic work. The speed range reaches from 3 to 50kph at full power. Addtionally, unique driver experience is provide through stepless transmission control, high torque at low speeds and highest peak power at about 400 hp.
During stand still times there are no energy losses at all. The SESAM tractor system is emission free and runs at lowest noise level what is a particular advantage when operating close to residential areas or when working at night.
Currently, one battery charge lasts for up to four operating hours in typical mixed mode operations or about 55 km of transport, while charging time is about three hours. The life time of the battery is designed for 3100 charging cycles.