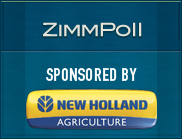 Our latest ZimmPoll asked the question, "Should EPA increase biofuels use?"
Energy diversity takes the win this week. EPA set final levels for biofuels use in 2017 under the Renewable Fuel Standard (RFS) that are in line with the 2007 Energy Independence and Security Act, calling for the maximum 15 million gallons of conventional ethanol for the first time and increasing volumes for biomass-based biodiesel.
Here are the poll results:
Yes – it's the law – 60%
No – repeal RFS – 23%
Don't know – 11%
Other – 6%
Our new ZimmPoll is live and asks the question, What's on your Christmas list?
I find it hard to believe it is already time for Christmas. I guess times flies when you're having fun! Have you made your list for Santa? My nearly three-year-old has and it's a doozy. I fit into the category of #AgNerd and check daily to see if Apple's Airpods have been released yet. Sadly, the day hasn't come. Are you looking for some new warm gear to do chores in, some ag tech to help make life on the farm easier or are you one of those who just asks for cash or gifts cards? Let us know!