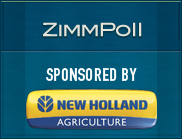 Our latest ZimmPoll asked the question, "What are you most thankful for this year?"
Family, friends, food and freedom…no doubt the simple majority shined in our Thanksgiving poll.
Here are the poll results:
Family – 13%
Friends – 3%
Food – 0%
Freedom – 0%
All of the above – 80%
Other – 3%
Our new ZimmPoll is live and asks the question, Should EPA increase biofuels use?
EPA set final levels for biofuels use in 2017 under the Renewable Fuel Standard (RFS) last week that are in line with the 2007 Energy Independence and Security Act, calling for the maximum 15 million gallons of conventional ethanol for the first time and increasing volumes for biomass-based biodiesel. What's your reaction to that?