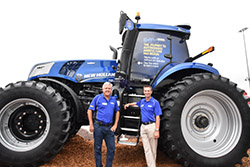 The autonomous tractor concepts revealed this year from CNH Industrial brands Case IH and New Holland Agriculture are receiving Silver Innovation medals from the SIMA Organization which hosts the bi-annual international farm machinery exhibition to be held February 2017 in Paris, France. These awards recognize new developments which "demonstrate design and innovative features that have the potential to offer significant user benefits."
Both the cabless Case IH Magnum CVX and the cabbed New Holland T8 NHDrive™ autonomous concept tractors, which were on display at the 2016 Farm Progress Show, were awarded Silver Innovation medals.
CNH Industrial's Innovation Group has proactively developed concept autonomous technology to help farmers and agribusinesses sustainably boost production and productivity through the ability to make the most of ideal soil and weather conditions, as well as available labor. This technology is the next step in the Company's innovation roadmap and holds significant promise for the sustainable and productive future of farming.
New Holland Agriculture also received a Special Mention for its High Efficiency Heat Rejection System, a system which features a high temperature loop to cool the engine and a low temperature loop to cool the vehicle systems locally to average the heat rejection requirements.