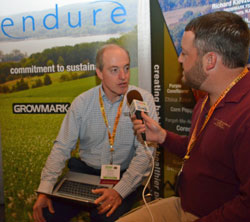 Most of the discussion at the recent National Association of Farm Broadcasting (NAFB) Convention was focused on the outcome of the Presidential election and what it means for agriculture. Chuck Spencer, Executive Director for Corporate and Government Relations at GROWMARK, provided his reaction to the election and how the outcome is shaping the policy priorities for 2017.
"Rural and urban interests need to come together, that is what I believe is most important, the dialogue between our differences in opinion needs to increase," he said. "We need to understand our consumer base for finished products and make sure we understand what our responsibilities are on both environmental stewardship platforms and consumer product platforms."
Spencer explained that the outcome of this year's Senate and House races did not yield any major changes to the Senate and House Agriculture Committees, but that the new administration will provide a distinct directional change from the standpoint of regulatory oversight. This change has the potential to significantly affect the next Farm Bill and many different areas of farming and production agriculture practices.
"There's been discussion about whether or not the appointee for EPA administrator will have farm experience or a farming background, but I think what's most important is that the individuals who take leadership roles in the development of the Farm Bill and the regulation of the administration have the ability to use science as the platform, that they engage all parties: agriculture, urban, and interest groups, and that we have outcomes that are able to be implemented at farm level," said Spencer.
Learn more in this interview:
[wpaudio url="http://traffic.libsyn.com/zimmcomm/nafb-16-growmark-spencer.mp3″ text="Interview with Chuck Spencer, GROWMARK"]