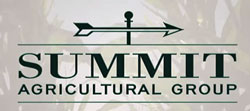 Iowa-based Summit Agricultural Group has introduced a new service model for farm and agricultural land management that brings the concept of 'unbundling' to traditional farm management offerings.
According to Joel Waskow, accredited farm manager with Summit Ag Management, Summit Advantage provides landowners with greater options and flexibility instead of binding them into the current one-size-fits-all approach. "We look at this like a cable company," explains Waskow. "We all have a lot of channels or services that we don't use that we have to pay for. With Summit Advantage, landowners can purchase only the services they want." Summit Ag Management is Summit Agricultural Group's full-service farm management and advisory unit.
For example, an owner who can manage farm operations but needs assistance in selecting a farm tenant and overseeing the leasing process now has that option through Summit Advantage. Or it might appeal to a landowner who leases the farm on his own, but prefers that others oversee the many aspects of farm operations and management.
Summit Advantage was just launched this month and Waskow says it has already received an enthusiastic response. "Some folks have asked why this hasn't been offered before," he said. "We had visited with landowners who only wanted help with one aspect of the management or another … and that's how we came up with it and the response has been extremely positive."
Learn more in this interview: [wpaudio url="http://traffic.libsyn.com/zimmcomm/summit-ag-advantage.mp3″ text="Interview with Joel Waskow, Summit Agricultural Group"]