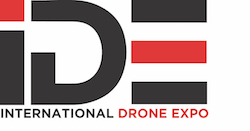 International Drone Expo (IDE), the largest gathering of the most innovative and leading members of the UAV community from around the globe, will hold its first annual Drone Race inside the Los Angeles Convention Center this December. MultiGP, the sanctioning body and leading drone racing league for first-person view (FPV) radio-controlled aircraft in the United States, will custom design the indoor race course for first use at the show.
The IDE Drone Race event is a two-part series. MultiGP will hand select perennial talent to compete in the SoCal Maker Convention qualification rounds at the Los Angeles Fairplex in Pomona, CA on November 5, 2016. Finalists of the SoCal Maker Convention will advance to the IDE Drone Race Cup championship at the Los Angeles Convention Center and compete on a custom designed indoor race course. The specially designed drone race course will be larger than other indoor courses with more advanced obstacles, and complete with a massive spectating area for expo attendees.
"The first Drone Racing Cup presents a great opportunity to advance the sport of drone racing in terms of technicality and popularity," said Ned Krause of IDE. "The sport's top talent will face a course testing all of their capabilities as they navigate some of the most challenging and creative obstacles. Plus, spectators will have unprecedented up close access to the course making for an adrenaline-pumping event."
Drone racing is one of the many activations that will be held at the International Drone Expo. Building off of the drone race, a separate drone race mini expo will be set up to also feature the best in the industry. Also incorporated into the show is a pitchfest competition in which entrepreneurs will seek investments and opportunities for their drone concepts and products from a panel of venture capitalists. Additionally, IDE show goers are encouraged to submit their most captivating drone footage for a chance to be displayed in the main hall during the expo.