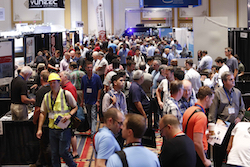 BZ Media LLC's InterDrone™ The International Drone Conference & Exposition, held at the Paris Hotel in Las Vegas Sept 7-9, drew 3,518 attendees from 54 different countries on 6 continents. The event featured 155 exhibitors and sponsors in more than 230 booths. FAA Administrator Michael P. Huerta gave the Grand Opening Keynote speech to thousands gathered on the first day.
"The second year of InterDrone leapt over every high bar that the first show had set," said Ted Bahr, Chairman of InterDrone. "Its success reflects the exciting growth in the commercial drone market and the strong desire of businesses to take part in it. Attendance grew 26% and we had 58% more exhibitors and sponsors than last year. More than 260 media and association partners have helped build InterDrone into the largest dedicated commercial UAV event in the world."
"InterDrone 2016 took Vegas by storm. Enthusiasts from every state and over 50 countries gathered together to geek out over the latest products and services. I found myself mesmerized," said Nathan Tennant, a Blogger and Instructor with UAV Ground School. Anthony Merlino, CEO, Verge Aero added, "We heard such great feedback on the opening day, we literally bought plane tickets and flew across the country to be here for the final days!"
Exhibitors and sponsors included a cross section of the entire commercial drone industry including AeroVironment, PrecisionHawk, Yuneec, Intel, SenseFly, Insitu, Parrot, NovaTel, 3D Robotics, eHang, Autel, AUVSI, Hubsan, C-Astral, Brother, Airbus, SlantRange, Kodak, Flir, Parrot, AEGis Technologies, Sentera, and pavilions from Iowa, North Dakota and Nevada.
"InterDrone has been a great show for us. Traffic has been really good. The people who were coming by were knowledgeable and asking great questions. We feel like the show definitely paid for itself and we'll be back in 2017," said Adam Sloane, Founder, BirdsEyeView Aerobotics. John Ferguson, CEO of Saxon Remote Systems added, "Our staff was absolutely exhausted. There were nine of us working the booth and not one person had five minutes to sit down the entire show. The traffic was overwhelming. We were definitely making sales, getting tremendous contacts and generating a lot of interest."
Sally French, Columnist, Wall Street Journal and Founder, DroneGirl called it a "great conference!" And Alan Phillips, Publisher, DroneLife said it was "A great show for us. InterDrone has become the CES for the new drone economy."
"I have never seen an event with more buzz and energy, and I have been to them all," said Mark Barker, Director of Business Development, NIAS-UAS.
Enrico Schaefer, Managing Partner, Traverse Legal said, "The turnout was insane. The response to our products and services was way beyond what we expected. We go to a lot of shows but this is THE show that people need to come to if you are in the Commercial UAV market. Where do we sign up for 2017?"
39 companies announced or showed new products at InterDrone, including Yuneec, PowerVision Robotics, Parrot, Intel, Epson, Flir, Insitu, Lidar USA, Hubsan, Leptron, and Kodak. The showstopper was displayed by Japanese robotics company Prodrone, making its first appearance in the United States, with a large hexacopter sporting two robotic arms with claws capable of carrying 44-pound loads for a flight time of up to 30 minutes.
InterDrone featured the second annual Women in Drones Luncheon networking event which was sponsored by Intel and tripled attendance to more than 180 participants. The show debuted a special session called Diversity Rising: Opportunities for Minorities in the Commercial Drone Industry, sponsored by the State of Nevada Governor's Office of Economic Development (GOED), and held a STEM session called Drones, Software, and Data Analysis in STEM Education – Tomorrow's Workforce.
The InterDrone Film Festival received more than 300 submissions from 21 countries and winners in six categories were announced at a reception. Frank Shroth, Editor, Dronelife.com said, "There is a tremendous amount going on at the InterDrone trade show! Exhibitor and attendance numbers were both up substantially and a persistent excitement and enthusiasm level was omnipresent at the conference."
The technical conference featured 121 classes and panels that were led by 183 speakers. Christopher Karody, Editor, DroneBusiness.center said, "[InterDrone] brought together a 'who's who' from every corner of the drone industry. The very considerable expertise and brainpower was showcased in a non-stop smorgasbord of sessions, keynotes and neat events. This was one amazing conference and I am proud to have been part of it."