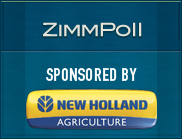 Our latest ZimmPoll asked the question, "How long until we have autonomous tractors on the market??"
Both New Holland and Case IH debuted autonomous concept tractors during the Farm Progress Show. It seems many believe we will see these tractors on the marketplace sooner than later.
Here are the poll results:
Very soon – 30%
5 years out – 27%
10 years out – 14%
20 years out – 18%
Never – 8%
Other – 3%
Our new ZimmPoll is live and asks the question, What's your opinion of the Bayer-Monsanto deal?
The mega merger between Bayer AG and Monsanto Company was officially announced this week. We did a ZimmPoll on the topic back in May, but now that it is a done deal, we thought it would be good to do it again and see if we get the same results.