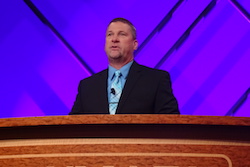 GROWMARK's commitment to sustainability was made evident during the 2016 GROWMARK Annual Meeting & Agribusiness Symposium, and Mark Orr, GROWMARK's Vice President of Agronomy, sat down with AgWired during this year's event to discuss the ways that the company is working directly with farmers to implement sustainable practices that will improve the long term profitability and success of their farms.
"We really want to focus on profitability at the farm gate. We believe sustainability in the long term has to be profitable for the farmer, and with that being said, we are focusing not only on the agronomic piece of sustainability but the social piece of it, which is also key to remaining sustainable in the long haul," said Orr.
Orr explained that one of the major sustainability initiatives GROWMARK has brought forward this year is the 4R Sustainability Advocate Program.
"We really want to recognize the crop specialists that are working with the producer on the 4R stewardship practices that are in place throughout their territory," he said.
GROWMARK is also putting major effort into working with their member farmers on updating some best management practices, especially related to nitrogen management, that will improve the long-term, profitable sustainability on their operations.
Learn more in Lizzy's full interview with Mark here:
[wpaudio url="http://traffic.libsyn.com/zimmcomm/growmark-16-orr.mp3″ text="Interview with Mark Orr, GROWMARK"]
Jack McCormick, one of GROWMARK's Board Members and a corn, wheat, and soybean grower from southern Illinois, is one of GROWMARK's farmer-owners that has been prioritizing sustainable practices for years. McCormick's operation utilizes a comprehensive nutrient management system, and the family has been practicing no-till planting since 1970.
"Like anything, you start with the practices, you refine it, and you start doing practices that make sense for the environment and for your operation," said McCormick in an interview during the Annual Meeting. "The practices that we think make a difference to the public have to do with keeping our water as clean as we can and using practices to keep crop protection products on the field as long as we can. I would like to see everybody embrace as many practices as they can."
Listen to all of Jack's thoughts on sustainability in his full interview here:
[wpaudio url="http://traffic.libsyn.com/zimmcomm/growmark-16-mccormick.mp3″ text="Interview with Jack McCormick, GROWMARK"]
View and download photos from the event here: 2016 GROWMARK Annual Meeting & Agribusiness Symposium Photo Album