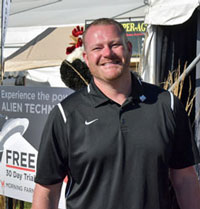 Agrible was showcasing its "alien technology" at the 2016 Farm Progress Show.
"It really is so far ahead and so foreign to a lot of people that it just seems alien," said Agrible sales director Jason Little.
Among Agrible's alien technology products is the free Find My Seed™ tool which combines searchable data from over 300,000 third-party seed trial plots covering 23,000 different seed varieties. "It's an independent seed trial aggregator," said Little. "Based on the criteria, it will search the data base and come back with the hybrids that have the highest yield advantage."
Agrible just expanded Find My Seed™ to include five additional crop types. In addition to corn and soybeans, Find My Seed now includes thousands of varieties of wheat, barley, peanuts, oats, and cotton.
Learn more about Agrible in this interview: [wpaudio url="http://traffic.libsyn.com/zimmcomm/fps16-agrible.mp3″ text="Interview with Jason Little, Agrible"]