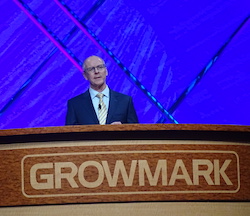 The 2016 GROWMARK Annual Meeting and Agribusiness Symposium was held this week in Chicago, Illinois. This year's event theme was "Next," with a focus centered on the innovations and ideas that will lead the future of agriculture and ensure its success.
Jim Spradlin, CEO of GROWMARK, sat down for an interview during the Annual Meeting. He discussed the company's vision behind this year's event, including this year's new addition of the Agribusiness Symposium.
"We took a different approach this year by expanding it by a day and adding in some educational components, and we tried to choose topics that fit our current ag environment, which is currently in a down cycle," he said. "There are challenges relative to economics, there are challenges related to regulations, and there are added environmental pressures, so we tried to pick speakers that help us could provide insight to our audience and our members and educate our owners on how to deal with these issues going forward."
Highlights at this year's event included a comprehensive panel on sustainability, an economic outlook from Dr. Mark Dotzour, and keynotes from retired General and former Secretary of State Colin Powell and retired U.S. Army Staff Sergeant Keni Thomas, whose acts of bravery during a famous mission in Somalia were recounted in the movie "Black Hawk Down."
"GROWMARK's mission is to improve the profitability of our member-owners, so we try to focus everything we do on how we can help our farmers become more profitable, which starts with providing trusted advice," said Spradlin.
Listen to Lizzy's full interview with Jim here:
[wpaudio url="http://traffic.libsyn.com/zimmcomm/growmark-16-spradlin.mp3″ text="Interview with Jim Spradlin, GROWMARK"]
View and download photos from the event here:2016 GROWMARK Annual Meeting & Agribusiness Symposium Photo Album