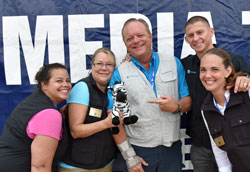 The ZimmComm team – with mascot Mini Z – are on the ground at the Farm Progress Show in Boone, Iowa ready to begin a full day of learning about the latest in agricultural equipment and technology.
Left to right here we have Energy.AgWired and AgNewsWire editor Joanna Schroeder, me and Chuck (and Mini Z), ZimmComm general manager Clint Underwood, and Precision AgWired editor Kelly Marshall.
So far the weather is good and we are keeping our fingers crossed that it will be better than the last time the show was in Iowa. If you are at the show, hope to see you – if not, stay tuned here and on AgWired.com for all the latest!