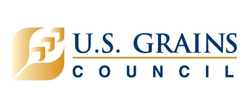 It's been five years since U.S. grain landed in Malaysia.  Member of the U.S. Grains Council (USGC) were recently on hand to welcome the first vessel of corn into the country since the drought in 2012/13.  The grain was loaded from the Pacific Northwest and was sold from one USGC member to another, destined for serval key USGC allies.
"This is an exciting opportunity," said Kevin Roepke, USGC South and Southeast Asia regional director. "We're able to build partnerships that help this bit of trade happen, which is a big win for Malaysia and U.S. producers."
The vessel was seen by the industry as a "trial run" to retest U.S. quality following significant engagement from the Council to encourage readoption of U.S. grains. In particular, USGC's quality reports issued each year to offer in-depth information to customers about the current year's crop helped alleviate objections and some nervousness about U.S. corn quality.
According to operations employees, the recently-arrived vessel came in around 1 percent higher in moisture and with similar rates of broken corn as South American origin corn. High moisture has always been a concern for U.S. origin corn in Southeast Asia because hot and humid weather conditions make even short-term storage challenging. The cargo was reportedly loaded at roughly 13.7 percent and arrived at approximately 14.7 percent, close to the threshold of 15 percent.
USCG plans to work in Malaysian buyers to answer questions and help ensure future sales.  "Buyers want the best quality and we work hard to answer their questions and help them have confidence in buying from the United States," Roepke said.
This is an opportunity for the U.S. to present corn of comparable quality to South America, since their crop is under pressure this year and the United States expect an abundant harvest.  If quality expectations are met the U.S. could see more business from Malaysia and other Southeast Asian countries as well.