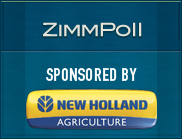 Our latest ZimmPoll asked the question, "Is agriculture still relevant at state fairs?"
I won't disclose my age, but I will say I have never missed a Missouri State Fair. No, I am not a carney. I was there with my dad as he managed FFA shows and exhibits, I have exhibited my own cattle and more recently have attended as media. No matter the exact reason, they were all centered around agriculture. And luckily, our pollers agreed that agriculture does and should play a large role at state fairs across the county. I hope your memories of state fairs are as memorable as mine and you do your part to make sure agriculture isn't lost at future fairs.
Here are the poll results:
Yes, plays a big role – 65%
Yes, but minor – 11%
No, should play larger role – 16%
No need for ag – 5%
Don't know – 0%
Other – 3%
Our new ZimmPoll is live and asks the question, How important is immigration/farm labor to election?
One of the hot topics in this year's presidential election has been immigration. Both sides of the line have mentioned it's impact, but few can agree on a solution. Farmers and ranchers are in a constant struggle to find farm labor and immigration laws play a big part. Let us know how important immigration and farm labor are in our upcoming presidential election.