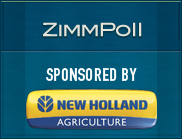 Our latest ZimmPoll asked the question, "What will play the biggest role in the future of agriculture?"
During the 2016 InfoAg Conference, Jack Uldrich, acclaimed global futurist, speaker and best-selling author, shared thoughts on what the world may look like in just a few short years. Collaboration rose to the top and shows we need to keep all of the above in mind when talking about the future of agricultural technology.
Here are the poll results:
Big data – 18%
Social media – 0%
Robotics – 7%
Biotech – 17%
Nanotech – 3%
Artificial intelligence – 7%
Renewable energy – 13%
Precision tech – 14%
Collaboration – 21%
Our new ZimmPoll is live and asks the question, Is agriculture still relevant at state fairs?
State fairs are taking place across the country and were originally started with agriculture in mind. But fewer and fewer state fairs have focused their efforts on agriculture. With a growing population more discounted to agriculture than every before, shouldn't our state fairs be agriculture centered? Is agriculture still relevant at state fairs? Let us know your thoughts.