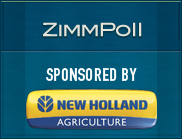 Our latest ZimmPoll asked the question, "Is the Clinton-Kaine Democratic ticket good for agriculture and/or energy?"
I am not quite sure this week's pollers have anymore confidence in the Clinton-Kaine team when it come to agricultural and energy issues. Clinton has backed biotech, the Farm Bill, animal welfare, climate and the Renewable Fuel Standard (RFS). And Kaine seems somewhere in the middle. However, our poll shows a split. I suppose time will tell all.
Here are the poll results:
Good for ag & biofuels – 43%
Good for ag but not for biofuels – 0%
Good for biofuels but not for ag – 5%
Not good for ag & biofuels – 33%
Could go either way – 19%
Other – 0%
Our new ZimmPoll is live and asks the question, What will play the biggest role in the future of agriculture?
The 2016 InfoAg Conference is a wrap, yet we still have a bunch of precision technology info to share with you in the coming week. Jack Uldrich, acclaimed global futurist, speaker and best-selling author keynoted this year's ag techfest sharing thoughts on what the world may look like in just a few short years. So, what do you feel will play the largest role in the future of agriculture…biotech, big data, social media? Share your thoughts.