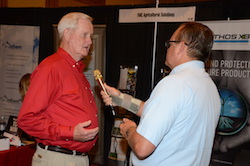 The growing season is in full swing, and the team at FMC Corporation is encouraging growers to be extra weed-conscious as summer comes to an end and harvest season begins. Ken Smith, Technical Service Manager for FMC Corporation, was on hand during the 2016 Ag Media Summit to discuss the reality of herbicide resistance, and how it has made fall weed management more critical than ever.
"We are in late season, and it's a time where its easy to let your guard down, but it's also a time when we really need to be conscious of what weeds are out there going to seed, particularly the amaranth species like palmer amaranth and water hemp are such prolific seed producers and it's a numbers game, so managing these in the fall is very critical for next year," said Smith in an interview during the Ag Media Summit.
Smith emphasized that while a multitude of weed management practices exist, many are time consuming and expensive, and the use of a long residual herbicide such as FMC's Anthem line of herbicides is highly praised as the most affordable, effective, and efficient solution for growers.
"When we talk to farmers, we always say that if you start with a clean field, your field stays clean, and one of the ways to start clean is to start thinking about it right now," said Smith.
Listen to Chuck's full interview with Ken here:
[wpaudio url="http://traffic.libsyn.com/zimmcomm/ams-16-fmc-smith.mp3″ text="Interview with Ken Smith, FMC"]
View and download photos from the event here: 2016 AMS Photo Album