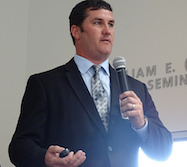 At the latest Food Dialogue from the U.S. Farmers and Ranchers Alliance (USFRA) and the Farm and Food Alliance of Minnesota, a panel of experts kept the focus entirely on water sustainability, an issue that has continually placed significant blame on production agriculture. The lone producer on the panel was Nathan Collins, who raises Angus cattle and grows corn, soybeans, and alfalfa on his farm in West Central Minnesota. His perspective brought fresh insight into the conversation about sustainability, a controversial topic that remains without a formal definition.
"I think it's important that everyone understands that water problems are not just due to agriculture. This is such a broad issue that covers every industry," he said in an interview following the event. "Farmers have become an easy target because we aren't always willing to speak up against the misconceptions, but we're doing so many good things right now. We've always had water quality as a top priority, and we wouldn't be able to continue farming the same land for multiple generations if we weren't taking care of the land."
Nathan's takeaway from the event was the importance of engaging more people in the efforts to finding solutions to the nation's complex issues surrounding water quality and security, and the fact that telling his story as a producer remains an absolute necessity in the continued efforts towards improving our environment.
"It's so important for farmers to have conservations with people. Its quite easy and it can be a lot of fun, because a lot of people don't understand what farmers do on a day to day basis, and the business of agriculture is so diverse that it's paramount that you share your story with people," he said.
Listen to Lizzy's full interview with Nathan here:
[wpaudio url="http://traffic.libsyn.com/zimmcomm/fd-16-collins.mp3″ text="Interview with Nathan Collins, MN Farmer"]
View and download photos from the event here: Food Dialogues: Minneapolis Photo Album