Mycogen Seeds along with Richard Childress Racing (RCR) sported a new paint scheme for the No. 3 Dow/Mycogen Chevrolet SS driven by Austin Dillon this past weekend. The Crown Royal 400 at the Brickyard NASCAR Sprint Cup Series race took place in Indianapolis, the home of Mycogen Seeds, on Sunday, July 24, 2016. No. 18 Kyle Busch, driving the Skittles Toyota, took the trophy with Dillon finishing 9th. POET's logo was also part of the new paint scheme.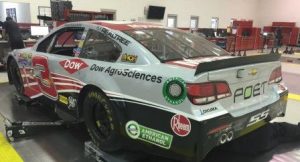 "We are thrilled to have POET join Mycogen Seeds and RCR to further support ethanol and American farmers," said Damon Palmer, Mycogen Seeds general manager prior to the race. "The No. 3 is sure to stand out at the Brickyard debuting the POET paint scheme with Austin Dillon behind the wheel."
The entire field, including the No. 3, runs on 15 percent ethanol-blended fuel, which has powered every NASCAR Sprint Cup Series race car since 2011.
"Just as ethanol use in NASCAR improves efficiency on the track, ethanol use overall helps balance the U.S. corn supply," continued Palmer. "We're proud to be part of industry collaborations that deliver better market opportunities for American farmers."
Jeff Broin, CEO of POET, added, "By using E15, NASCAR shows the world the power, efficiency and dependability of high-octane ethanol fuel. We're glad to work with Mycogen Seeds and RCR to highlight the benefits of ethanol to our nation's air, public health and rural economies."