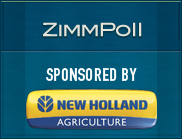 Our latest ZimmPoll asked the question, "What do you think about the Senate's GMO Disclosure Bill?
The Senate has passed it's version of the GMO Disclosure Bill followed by the House passing the National Bioengineered Food Disclosure Standard, and the President is expected to sign the bill into law soon. However, 40 percent of voters believe the legislation is bad for everyone.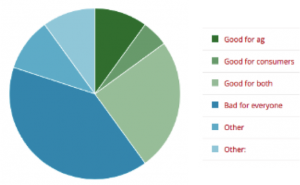 Here are the poll results:
Good for Ag – 10%
Good for consumers – 5%
Good for both – 25%
Bad for everyone – 40%
Other – 20%
Our new ZimmPoll is live and asks the question, Is the Trump-Pence Republican ticket good for agriculture and biofuels? During his campaigning Trump has been a vocal supporter of biofuels visiting an ethanol plant in Iowa last summer and has repeatedly said he could "be a farmer". However, one-term Indiana Governor Mike Pence is being heralded by the ag industry as understanding and supporting many facets of agriculture from small farms to large agribusinesses.