Water quality is the topic of an upcoming Dialogue hosted by the U.S. Farmers & Ranchers Alliance (USFRA) and the Farm and Food Alliance of Minnesota. "A Celebration of Minnesota's Waters," will take place Tuesday, July 26, 2016 with a focus on water quality and surrounding issues. The goal of the Dialogue is to share successful tools and tactics being used by farmers to reduce run-off, improve water quality and learn about ways to use water more effectively.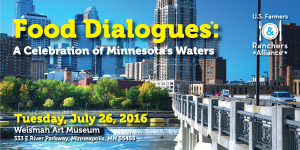 According to the organizations, water quality is a top-of-mind issue for residents in the Land of 10,000 Lakes. Concerns about conservation, usage and sustainability as it relates to food production are just a few of the topics that are being discussed. Agriculture has received much of the blame for water quality concerns even though the industry is taking a leading role around improving water quality.
While this event is geared toward young professionals and interns in the Twin Cities, it offers a unique opportunity to engage for all people interested in water quality issues. The event is taking place July 26 from 2:00-4:00 pm with registration and networking beginning at 1:00 pm at the Weisman Art Museum, 333 E River Parkway, Minneapolis, MN 55455. Click here to learn more and register for this free event.