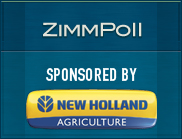 Our latest ZimmPoll asked the question, "What cookout cuisine do you bring to the table?"
We're well into grilling season and hot off an Independence Day weekend. Burgers and pasta salad were high on the list. In the Other category we got answers like my favorite – steak!
Here are the poll results:
Pasta Salad – 25%
Cheese Burgers – 25%
Other – 18.75%
Baked Beans – 12.5%
Hot dogs – 6.25%
Pork spare ribs – 6.25%
Potato salad – 6.25%
Our new ZimmPoll is now live and asks the question, "What do you think about Senate's GMO Disclosure Bill?"
The Senate has passed on a bipartisan National Bioengineered Food Disclosure Standard that would preempt individual state laws to require labeling of foods containing genetically engineered ingredients. Now it goes to the House. What do you think about it?