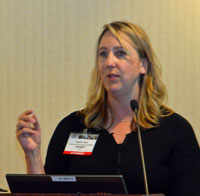 Today's news might make you believe the fight against agriculture technology is a modern issue, but Katie Fast of Oregonians for Food and Shelter told an audience at the American Seed Trade Association annual meeting, her organization has been dealing with consumer misinformation since 1980.
This grassroots network of farmers and foresters began focusing on the responsible use of resources, crop protection products, and biotechnology when a local county faced a ban on aerial application of a pesticide.  Since then they've been working to educate consumers as they attempt to pass food labeling initiatives and other farming and forestry regulations.
But educating the consumer isn't the only thing they're working towards.  "In Oregon we're a specialty crop state, very different from the midwest," Fast explains.  "And so we see a need to educate our farmers who are using the technology on [advocacy] more, because they want to advocate …, but they need more information as well."
In fact, currently OFS is partnering with CropLife to develop messaging and tools for growers to be better advocates for themselves.  Fast sees growers as their own best offense, but it is her job to help them do it successfully.  With more than 35 years of experience behind them, it seems OSA is in the right place to give that support.  But Fast admits things today are very different than they were when the organization was founded.
"I would say we are dealing with the same issues from the 80s but its been piling on top. And there are more challenges. There are more challenges on the farm for the operators in terms of new regulations and we're trying to hold some of that back."
Listen to Cindy's full interview here: [wpaudio url="http://traffic.libsyn.com/zimmcomm/asta-16-fast.mp3″ text="Interview with Katie Fast, Oregonians for Food and Shelter"]